St. George's walk is a historic hike in the Nijmegen area.
The walk: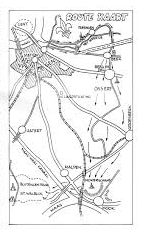 consists of six mandatory points. 
start at the central station of Nijmegen. 

ends on scouting campground St. Walrick. 

must be at least a two-day hike, whereby overnight in a tent. 

participation for scouts age and older. (participation is at your own risk) 

it must be demonstrated at the end of the camp staff of St. Walrick through selfies that all points are visited. 

do you want a certificate, name tag and badge (original authentic) than that costs € 5, - 
After registration you will receive an email with the coordinates of the points along the route to walk and participants regulations. You decide how long you make the trek itself and ultimately how you walk.